News and highlights
The primary mirrors of modern telescope are equipped with an active optics support that not only supports the weight of the mirror but also provides accurate force corrections to maintain the mirror in the optimum shape.
A novel type of electro-pneumatic actuators, originally developed for the INO340 3.4-m telescope, is now offered as a general and cost-convenient solution for all modern active optics telescopes.
The main characteristics are:
Force range 10 - 1000 N
Force resolution 0.15 N @ 10 Hz
Large stroke ±3 mm
Low dissipation electronics can be integrated in the actuator body
---
SOLARNET: High-resolution Solar Physics Network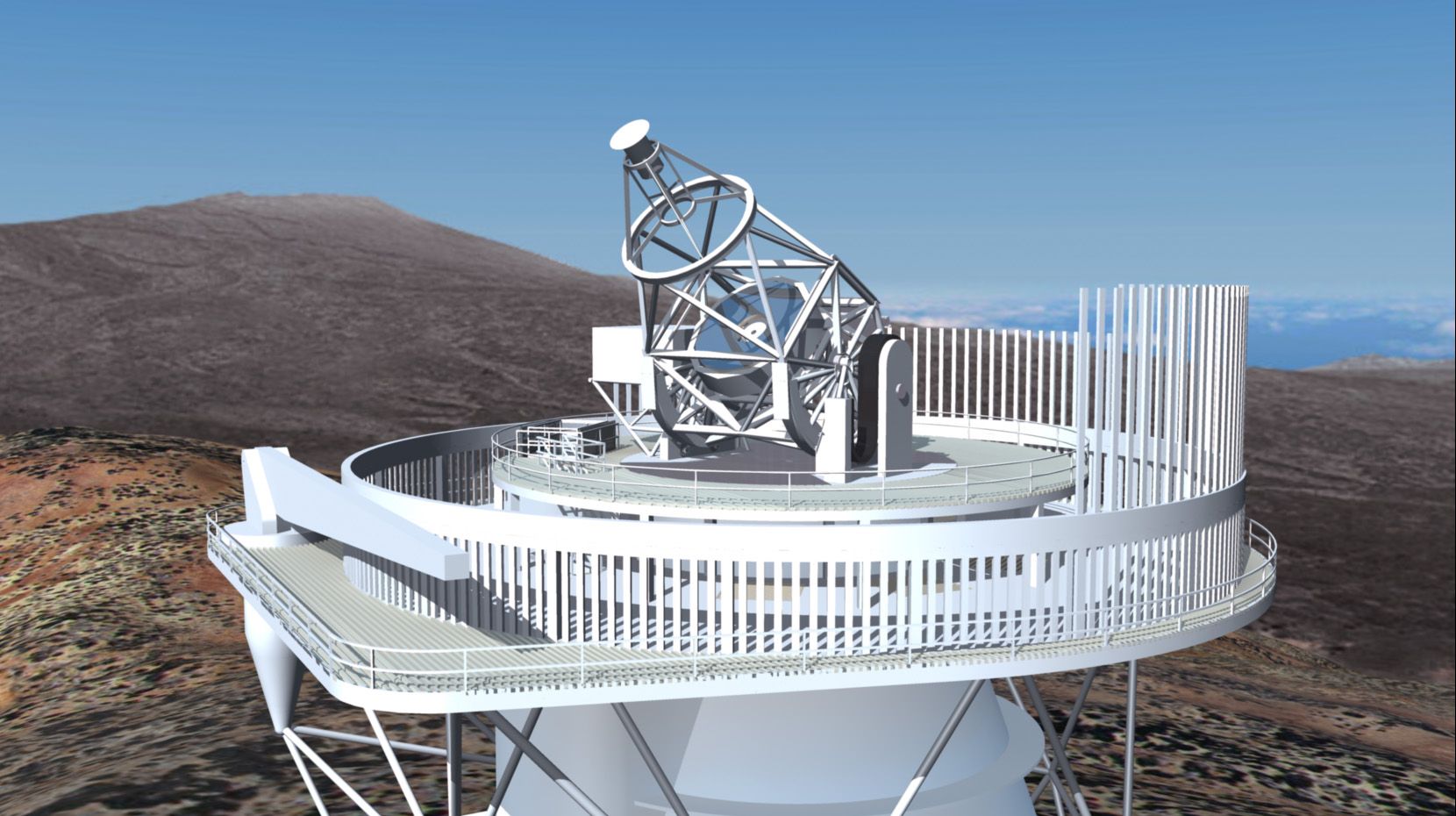 SOLARNET is an EU project aimed at integrating the key European ground-based research infrastructures in the field of high resolution solar physics. SOLARNET will also essntially define and delvelop the instrumentation for the European Solar Telescope (EST) project.
OptoLab.iAi is engaged in a key workpackage which will develop the tools which are needed to characterize the performance of the EST Multi Conjugate Adaptive Optics system, and to generate the information needed to remove the disturbances from observed data which are caused by incomplete compensation of the adaptive optics. In this work package, the distinct competences of several research groups will be combined.
One goal is the development of tools to estimate the long exposure compensated point spread function from telemetry data from the control system throughout the field of view, which is needed to restore spectropolarimetry observations. Another goal is to estimate the statistics for the short exposure compensated point spread function, an information which is used for deconvolution ad speckle imaging.
---
Secondary and tertiary mirror cells of the European Extremely Larger Telescope (ELT)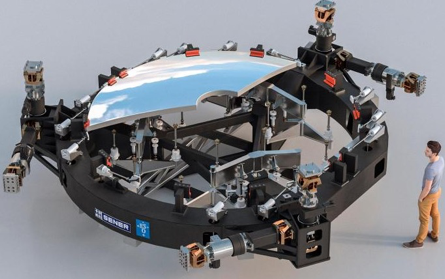 In February 2017, following an open tender process ESO has assigned the development contract for the secondary and tertiary mirror cells of the ELT to the Spanish company SENER. OptoLab.iAi contributed as a subcontractor to the successful tender and will then provide various technical analyses and mathematical models during the design phases.
These are complex mechanisms of large size (4-5 m) and extreme accuracy, which support by means of active devices and in all circumstances the surface figure of the mirror with the accuracy of a few nanometers.
Our contribution to this project comprises in particular the integrated (end-to-end) modeling of these mechanisms. This allows to evaluate in a single computation cycle the combined effects of various analyses (static, dynamic, thermal, kinematic) on the optical performance of the mirror. This integrated modeling approach results notably in more efficient design iterations and optimization of all structures and active mechanisms.
---
INO340 Iranian Telescope Project
One of the latest additions to the international collaborations and consultancy work of OptoLab.iAi is the project of a 3.4-m telescope currently being developed by the Iranian National Observatory.
The INO340 is the project for a new 3.4-m optical and near-infrared Cassegrain telescope embedding active optics.
We are in particular providing assistance to system engineering and to the development of the active optics components.
---
DAG Telescope (ongoing)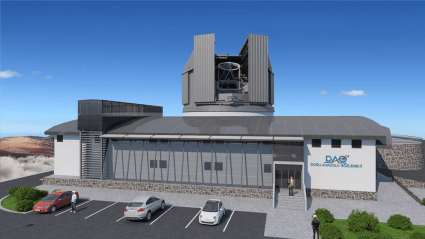 The DAG (Dogu Anadolu Gözlemevi, Eastern Anatolia Observatory) is the project for a new state-of-the-art 4-m optical and near-infrared telescope. This project has now entered the realization phase. The installation of this new telescope is planned on a 3000 m site in eastern Anatolia near the city of Erzurum.
Optolab.iAi has produced during early 2014 the preliminary study for the optical systems of the telescope.
The main contract for the procurement of the telescope has been assigned to the company AMOS (Belgium), with OptoLab.iAi holding the supervisory role in the follow-up and development of the optical aspects of this project.
Furthermore, Prof. Laurent Jolissaint of OptoLab.iAi is also in charge of the development of DAG instruments, including a state-of-the-art adaptive optics module.
---
Calibration system for precision hexapods delivered to ESO (May 2014)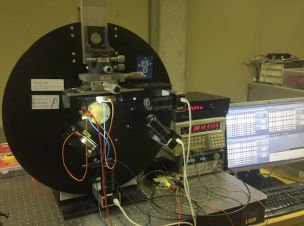 OptoLab.iAi has delivered to the ESO (European Southern Observatory) Paranal Observatory a metrology system for the calibration of precision hexapods. These hexapods are used as secondary mirror supports in the VLTI auxiliary telescope systems (ATS) of the ESO (European Southern Observatory) Paranal Observatory.
This novel measuring system is based on industrial USB cameras and is an original development of OptoLab.iAi . The system performs concurrent X,Y,Z,Rx,Ry measurements and is accurate within 2-5 micron depending on the measurement axis. ... more details ...
---
Participation in the preliminary design of the CHEOPS satellite (2012)
CHEOPS (CH ExOPlanet Satellite) is a mini-satellite that will make follow-up measurements of known exoplanets in order to characterize their structure. It is envisioned to be a small spacecraft (< 100 kg) carrying a telescope of ~40 cm that will perform ultra-precise optical photometric observations within two wavelength bands.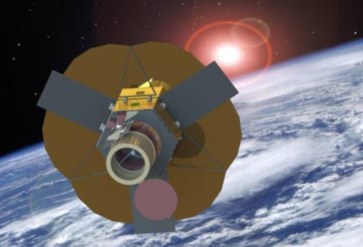 Under the coordination of the EPFL Space Center who is in charge of overall spacecraft systems engineering, Optolab.iAi has developed the preliminary bus structure and mechanical concept for a feasibility study, which is carried out under the overall leadership of the University of Bern in close collaboration with the University of Geneva.
---
Collaboration with Yunnan Astronomical Observatory
The IAI-NIAOT(China) partnership (see news below) now including collaboration with Yunnan Astronomical Observatory in Kunming. OptoLab.iAi participate to the preliminary development of the Chinese Giant Solar Telescope (CGST), designed to have a 8-m ring aperture primary mirror.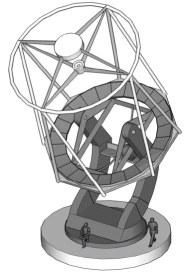 Artist's view of the CGST
---
Jules-Verne, a nanosat lunar orbiter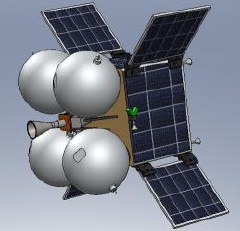 This concept was studied and proposed as a candidate post-SwissCube academic project.
It consists of a 15 kg nano-spacecraft with:
3-axes stabilization
Propulsion stage: Δv ~ 2000 m/s
Deep space communication (1M km)
Mass 15 kg:

payload 5 kg, candidate instruments are being considered,
propulsion system 3 kg,
propellant 7 kg
Once launched into Geosynchronous Transfer Orbit (GTO) it will proceed to reach lunar orbit on its own propulsion.
---
IAI - NIAOT (China) partnership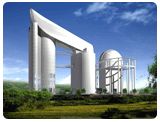 Télescope LAMOST
Within the framework of the Sino-Swiss Scientific Technical Cooperation agreement (SSSTC), and following a call for proposals of the Swiss State Secretariat for Education and Research (SER), an Institutional Partnership has been approved between IAI (for the HEIG-VD) and Nanjing Institute of Astronomical Optics & Technology, which is the main chinese organisation in the development of astronomical telescopes and instrumentation.
A grant of 36'000 CHF is provided by SER to this partnership, named SSIPAI - Sino-Swiss Institutional Partnership on Astrophysics Instrumentation. An exchange programme is planned until mid 2012, with reciprocal visits to present our respective projects and interest areas. This is done in view of preparing and proposing joint projects and R&D collaborations in the areas of high-precision opto-mechanics and system engineering for astrophisics instruments.
SwissCube images being analyzed at OptoLab.iAi (2011).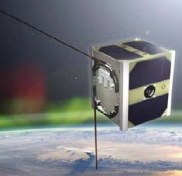 Almost 1,5 years after launch, SwissCube could finally be stabilized and started sensing its first images.
SwissCube has been launched on september 23rd 2009 at 8h21 MET. It was then deployed 20 minutes later. The first spacecraft 100% «SwissMade» has been developed and built by students of several Western Switzerland universities and engineering schools, coordinated by their respective instutes and managed by EPFL Space Center.
The SwissCube scientific mission is to perform space-based observations of the airglow occurring in the upper atmosphere at an altitude of about 100 km. This light radiation is emitted at a wavelength of 762 nm around the Earth. Two subsystems were mainly developed at the HEIG-VD:
Know-how and projects
Opto-mechatronic and systems engineering
Development, design and prototyping of high-precision opto-mechatronics systems, integrating optics, photonics, precision mechanics, electronics and software.
Inter- and pluridisciplinary applied science and engineering covering in particular the fields of optics, photonics, mechatronics, precision motion, embedded systems, structures, thermal analysis, environmental modeling and impact problems simulation, measurements and tests.
Pluridisciplinary projects involving a mix of technologies and applied sciences: optomechatronics, computer programming, motion control, fine mechanics, optics, atmospheric phenomena, thermal control.
Simulation and mathematical modeling of designs, processes and physical phenomena
Scientific and technical software applications
---
Publications
---
Contact
Prof. Lorenzo Zago
Institut d'Automatisation Industrielle
Haute Ecole d'Ingénierie et de Gestion du Canton de Vaud
Route de Cheseaux 1
CH-1401 Yverdon-les-Bains
Suisse
Phone: +41 (0)24 557 63 30